Minnesota Fishing Resort – Cass Lake – Great Muskie & Walleye Fishing!
Our Cass Lake Minnesota fishing resort offers everything you'll need for a successful fishing trip. Crisp clean air, breathtaking sunsets and total relaxation in the most cozy lakeside cottages in Northern Minnesota is just the beginning to what could be the most fabulous Minnesota fishing trip of your life.
Cass lake is 15,996 acres with a maximum depth of 120 feet. 20+ pound Northern Pike are caught and released on a regular basis. Monster Muskies patrol the 120 foot deep waters while hard fighting Walleyes populate the rocky points and bays. Other game species include largemouth bass, bluegill, perch and crappie. Spend your summer fishing trip at our Minnesota fishing resort, fish all day pull onto an island and cook yourself a shore lunch you will never forget.
Our cottages are fully equipped and very cozy. You can cook your own meals or dine out at one of the Cass Lake area's fine restaurants. The cabins offer quiet seclusion so you can count on waking from a great nights sleep.
Cass Lake is located to these nearby cities: Walker, MN (19.4 miles), Bemidji, MN (20.0 miles), Blackduck, MN (24.6 miles), Akeley, MN (27.4 miles), Hackensack, MN (31.6 miles), Nevis, MN (33.1 miles), Backus, MN (39.0 miles), Kelliher, MN (40.4 miles).
So if your planning a trip or vacation to the Northern Minnesota and you like to fish give us a call – we would be happy to pass along a few of our fishing tips or point out the Hot Spots!
Cass Lake Boat Rentals
Reservations for boats, motors, or other equipment received less than one week prior to arrival will be accepted on availability only. Weekly boat rentals need to be returned by 5:00PM on Friday.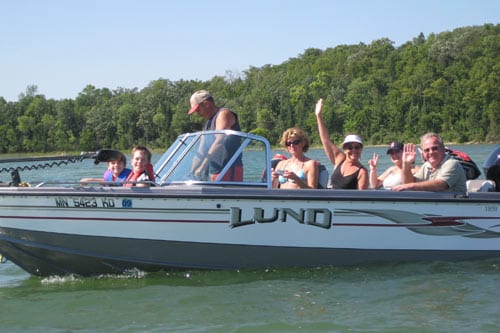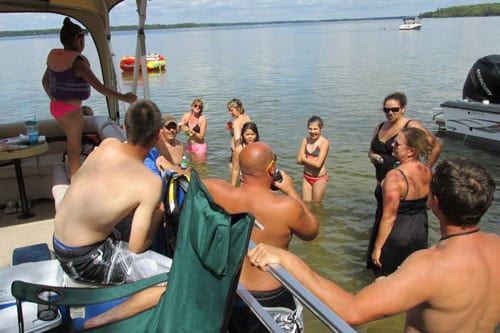 | | | |
| --- | --- | --- |
| WATERCRAFT | DAILY | WEEKLY |
| 2019 Premier Gemini 240 24′ Suzuki 90 HP 4-Stroke (10 PERSON MAX) | $300.00 plus gas | $1200.00 plus gas |
| 2019 Lund Tritoon 24′ Yamaha 115 HP 4-Stroke ( 10 PERSON MAX) | $360. plus gas | $1800.00 plus gas |
| 2010 Weeres Cadet 240 Cruise 24′ New 2021 Suzuki 60 HP 4-Stroke ( 10 PERSON MAX) | $175.00 plus gas | $900.00 plus gas |
| 60 HP Electric Start Motor & 16 foot deep V Alumicraft Boat, Dept Finder, Bow Mount Trolling Motor (2 PERSON MAX) | $175.00 plus gas | $750.00 plus gas |
| 40 HP Electric Start Motor & 16 foot deep V Lund Aluminum Boat, Dept Finder, Bow Mount Trolling Motor (2 PERSON MAX) | $175.00 plus gas | $750.00 plus gas |
| Extra Harbor Space | $5.00 | $25.00 |
Additional Services Offered:
| | |
| --- | --- |
| Life Jackets | Included with rental |
| Dock/Harbor Parking | Included with rental |
| Extra Harbor Space | $25 per week or $5 per day. |
Cass Lake Fishing Guides:
Muskie Fishing Guides:
Fishing Gallery